Jerrell's install dry & wet lay applications of fire pits, along with custom & prefabricated fireplaces. One of their fireplaces or fire pits is a perfect center piece where one can enjoy the outdoors with children, friends and family. Jerrell's utilize professionally trained crews and state of the art machine equipment. This allows Jerrell's to expedite the installation process of each project from days into a matter of hours.

Each Jerrell's installation is designed to add that perfect look to an outdoor paradise. They add the enchanting glow of an outdoor fire for that cozy welcoming feeling. Spend more time outside relaxing or entertaining friends around a warm fire. Each fire pit or fireplace is constructed by Jerrell's with quality workmanship & materials to withstand the outdoor elements for years of enjoyment. Their fire pits and fireplaces are created for three types of fuels.

Firewood fireplaces and fire pits are great for the naturalist to who love the benefits of real wood. Such thrills include the starting of the fire, adding more wood for the perfect heating amount, maintaining the fire, the unforgettable aromas and, of course, the feeling of being part of nature.

Those not particular to real firewood, Jerrell's offer natural gas or propane fireplaces and fire pits. These fuels burn clean and create less maintenance than firewood while still giving the same warm fire feeling. Without getting dirty & little effort to start, owners do not need to find, cut or burn any wood for their fire. With simple low maintenance and only periodic cleaning, these gas or propone fireplaces and fire pits are your best alternative to its firewood counterparts.

Jerrell's guarantees every fireplace or fire pit installation for a minimum of one year on material and workmanship. You can relax knowing your fireplace or fire pit was installed correctly with quality and integrity the Jerrell name has had for over a decade.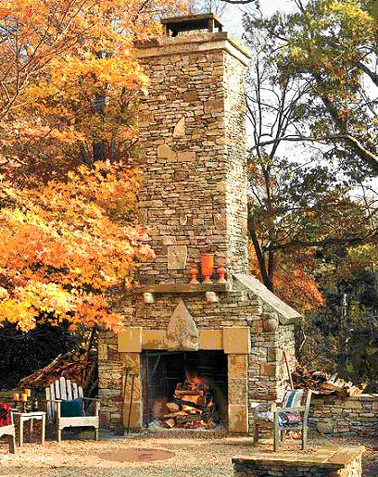 Jerrell's Landscapes & Nurseries, Inc.
Mount Laurel, NJ
Phone: (856) 235-4001
EMAIL: info@jerrellslandscapes.com