Jerrell's provides hydraulically operated tree spades or hand digging experts to economically move & transplant trees to a property from a nursery or relocate existing trees on a property. Their tree spades use large steel blades that surround the tree and hydraulically penetrate into the ground. The tree is then lifted out with the root system. Trees up to 14" diameter can be moved safely, quickly and successfully. Jerrell's use hand digging when a tree requires a root ball larger than a tree spade can dig or when the branch structure limits the type of equipment that can be used. They hand dig a trench around the tree and the ball is hand shaped with proper taper and contours. The tree is carefully wrapped in burlap and professionally drum laced with heavy twine. It is then moved by machine onto a trailer for transportation to its new home.

Benefits include:
· Instant privacy from neighbors and unsightly views
· Instant shade around patios and decks
· Provides winter windbreak & lowers home heating costs
· Provides summer shade to a house & lowers cooling costs
· Provides a timely sense of a mature and established appearance
· Saves healthy large trees from destruction
· Increases property value

Transplanting may be stressful to a tree, so proper timing and care must be used. Jerrell's prepares the tree with proper hydration procedures before and during the transplanting. They also use micro-organism based products to assist in additional root growth during and after the transplanting. After planting care information is provided to the owner for the tree's best survival during its transition phase to its new location.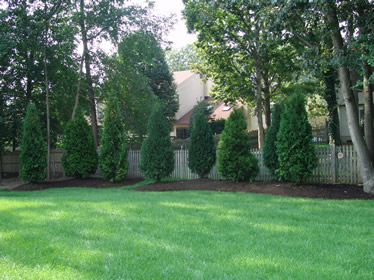 Jerrell's move trees for numerous organizations and individuals including:
Jerrell's Landscapes & Nurseries, Inc.
Mount Laurel, NJ
Phone: (856) 235-4001
EMAIL: info@jerrellslandscapes.com