Jerrell's installs a variety of poolscape elements to create a unique pool paradise for each residential client. They utilize professionally trained crews and state of the art machine equipment. This allows Jerrell's to expedite the installation process of each project from weeks into a matter of days.

Jerrell's work along side most local pool companies to ensure a proper integrated design between the pool and the rest of the property. They coordinate the excavation of soil prior to pool installation and grading the property after pool installation. With township zoning & permit requirements,

Jerrell's install retaining walls and solve all drainage issues. They install critical elements for a successful poolscape. Such pieces include: masonry coping around pools, stone patios, colorful landscapes, green sod, cascading waterfalls, elegant low voltage lighting, irrigation repairs and large boulder & stone placement.

Jerrell's guarantees different elements of a poolscape installation for a minimum of six months to five years on material and workmanship. You can relax knowing you poolscape was installed correctly with quality and integrity the Jerrell name has had for over a decade.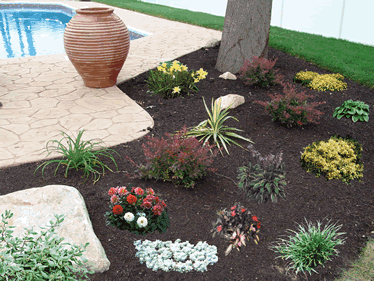 Jerrell's Landscapes & Nurseries, Inc.
Mount Laurel, NJ
Phone: (856) 235-4001
EMAIL: info@jerrellslandscapes.com