Jerrell's installs a variety of residential retaining walls with real stone and manufactured stone products. They utilize professionally trained crews and state of the art machine equipment. This allows Jerrell's to expedite the installation process of each project from weeks into a matter of days.

Jerrell's installs all walls to meet local building code requirements and to engineer specified plans. Whether the wall is for soil retention or for aesthetics, Jerrell's constructs walls to withstand various weather conditions. Using Geogrid reinforcement, drainage pipes, stone and other construction techniques, they build walls to last for decades. Their walls are not only functional, they are also beautiful with various colors, textures and stone materials to choose from. They have a variety of capping including bluestone, sandstone and manufactured stone to meet each client's individual preference. Jerrell's also installs lights into the walls for your outdoor lighting effects.

Jerrell's guarantees every installation for a minimum of five years on workmanship and a life time on EP Henry products. You can relax knowing your wall was installed correctly with quality and integrity the Jerrell name has had for over a decade.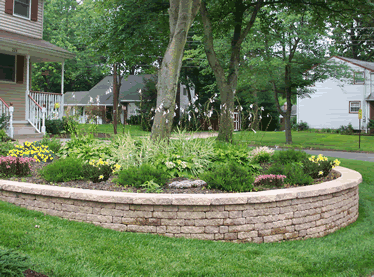 Jerrell's Landscapes & Nurseries, Inc.
Mount Laurel, NJ
Phone: (856) 235-4001
EMAIL: info@jerrellslandscapes.com